Careers
Name and Address of Careers Leader:
Mrs Stephanie Bryant
Contact: info@st-marks-southampton.org.uk
02380 772968
Careers Link Governor: Olu Falua 
Contact: ofalua@st-marks-southampton.org.uk
SENCO: Mrs Lauren Lambert
Contact: senco@st-marks-southampton.org.uk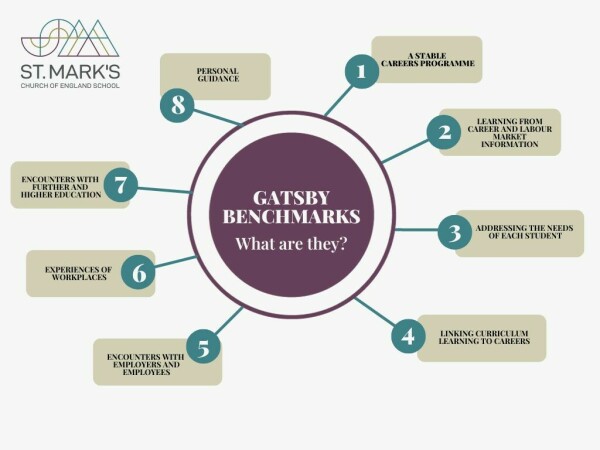 Local Links:

http://online.fliphtml5.com/okfun/czdo/ - The Southern Universities Network booklets for parents about Post-16 and 18 information. Explains all the options from ages 14-25.

http://access-southampton.co.uk/ - Access Southampton provides essential information to help young people make important decisions about their future.

https://www.sunoutreach.org/flying-start/?flying-start-categories=flying-start-southampton - Flying start Southampton provides all the local information about colleges, apprenticeships and traineeships that students can access.

http://www.youthnetsouthampton.org.uk/cv_creator/index.php – This is a local website with a really good CV creator and job information including a fortnightly jobs bulletin for young people.
 
How to talk about careers
https://nationalcareersservice.direct.gov.uk – Main website for the National Careers Service, there are links to job profiles, CV writing and other careers information.

www.careerpilot.org.uk – A free website with helpful quizzes for students and parents to discuss what careers they might like to do in the future. Provides information about salary, qualifications and skills required for each job.

www.careersbox.co.uk – Parents' Club, free work-related film content covering hundreds of different employment and training opportunities
 
Traineeship and Apprenticeship Information
www.apprenticeships.org.uk – The main National Apprenticeship website - students can register and apply for apprenticeship vacancies in their chosen occupation.

www.notgoingtouni.co.uk – Information for those who would prefer an apprenticeship, distance learning or employment with training, rather than university when they leave college.

www.amazingapprenticeships.com – Information, advice and support around applying for apprenticeships. Monthly Parents Pack Apprenticeship available with up to date information and support

https://www.sunoutreach.org/students/resources/apprenticeships/ - The Southern Universities Network support for parents helping their child access an apprenticeship in the future
 
University Information
www.ucas.com – Universities and Colleges Admissions Service:  Information for those who would like to go to university, everything you need to know including how and when to apply.

https://www.sunoutreach.org/parents/resources/not-too-late-parents/ - What is university? How does my child apply? What do they do about accommodation? How do they apply for student finance? All of these questions and more answered here

https://www.sunoutreach.org/parents/resources/open-days-parents/ - The purpose of University Open Days and how can I support my child to access them?
You can find in our careers information in our Careers, Education Information, Advice and Guidance policy and our Curriculum documents.